3 THINGS I NEED – Week 11
After the shellacking we got to witness last week it's hard to sit here and demand anything from this team. But that's what separates us from the likes of the bottom feeders of the NFL. Pressure creates diamonds as they say. So here we go.
NUMBER 1. Absolutely need Malcolm to step his shit up. This isn't one that's been an issue all season. He strung a few really solid weeks together after a slow start, but last week was a god damn broad jump in the wrong direction.
I'm not necessarily worried about this game, but despite the touch and go Raiders this year I believe Carr, Cooper, and Crabtree could make us hurt if Malcolm is playing like an asshole again. If we line up similar to last week, it looks like Malcolm will likely be on Crab, and that's a guy that can kill you with paper cuts. If Crabtree does what Sanders did last week, then Malcolm will end looking like he had a run in with Edward Scissorhands. Hopefully he and Gilmore can learn to exist on the field at the same time, because if they do all of a sudden this defense looks a whole lot better.
NUMBER 2. I need a Cooks tuddy. I still think that Cookie is performing a little below what I've needed of him all season. With that said, he's been reliable and he's pulling in yards each game. But god damn it would it be nice to see him take the top off. I feel like he was good for 3 or 4 of those a season in New Orleans. Cookie has found the endzone 3 times all year, and as a number 1 receiver that feels a little low.
The things it would do to my nethers to see Cookie find a one on one matchup slip by the coverage, and then just throw up that hand to Tom.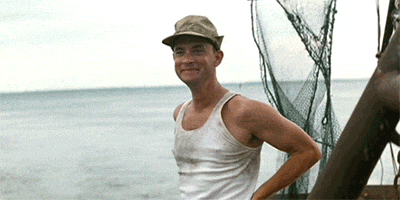 That universal symbol that says you just pantsed the idiot fool trying to cover you, and you're on the open road to 6 points. Drop one right in his basket, Tommy. I'm begging you.
NUMBER 3. Considering the fact that the game is in Mexico City, I'll be honoring that with what food I eat during the game. So I NEED some good Mexican dishes. Remember these games are long, so I'm looking for things that I can space out. I'm a BIG Mexican guy. I'll eat tacos 5 nights during the week and not even bat an eyelash. In order to do this right however I can't just go back to the well.
The key to a good Mexican meal is to not load up on the fillers like rice and beans. Those are great sure, but one enchilada plate will put you out of commission for hours, and we can't have that. I'm thinking of starting out with some ceviche. The Lamborghini of Mexican apps. Then get things going with a couple soft shell tacos. Maybe some barbacoa or carnitas to warm up the engine.
From there we're gonna slow things down with some quesadillas to get us through the doldrums after halftime. Finally, once Tom has thrown his 4
th
, dare I say 5
th
tuddy, we'll polish the night off with a Chimichanga. Essentially a deep-fried burrito.
That menu pared with a nice Patriots victory south of border is the perfect recipe for a happy coma to slip into. Cue the music