Tom Brady and Kevin Faulk prove bond goes much farther than just teammates
After playing twelve seasons together in the NFL you are bound to create a special friendship with the players around you. Kevin Faulk and Tom Brady prove to have just that: a special friendship.
How could Patriots fans forget when Kevin Faulk took the stage at the 2016 NFL Draft to announce the Patriots thrid round pick wearing a Tom Brady jersey? He showed support for his former quarterback and team by flaunting the number 12 while he announced the pick.
Tom Brady isn't quick to forget that gesture. Monday night Kevin Faulk was inducted into the Patriots Hall of Fame. Towards the end of the ceremony, Tom Brady made a surprise appearance. Rather than wearing the usual number 12 he surprised the crowd and wore a different number. He unzipped his jacket and unveiled the #33 jersey to pay his old teammate gratitude.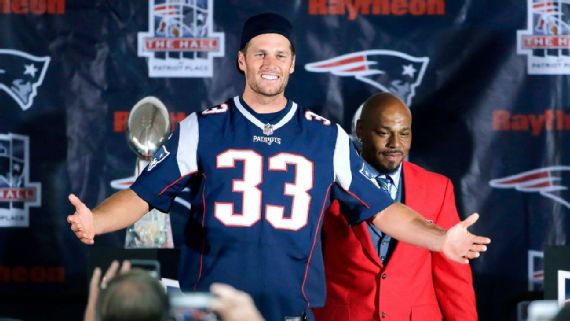 Brady surprised the crowd after he had been keeping a low profile after deciding to accept his four game suspension. Brady addressed the crowd for nearly two minutes before hitting the practice field with his teammates. During his speech Brady thanked the fans and said they were the best fans in the world.
Tom Brady: "We got the best fans in the world."

— Doug Kyed (@DougKyed) August 1, 2016
It's safe to say that Patriots players and fans will always have each other's backs, past and present.